---
This is a great question and though there are many interesting aspects to investigating it, it is ultimately unsolveable because there are so many possible variables. Just a few of them are:
1) How well-developed is the root system at the time of transplant?
2) What is the ambient temperature in the growing environment?
3) What is the quality and intensity of the light?
4) What is the humidity level?
5) How much air circulation is there?
6) What kind of hybrid?
and many, many more!

For any experiment, you have to use identical plants of the same hybrid with similar root systems like the ones shown here: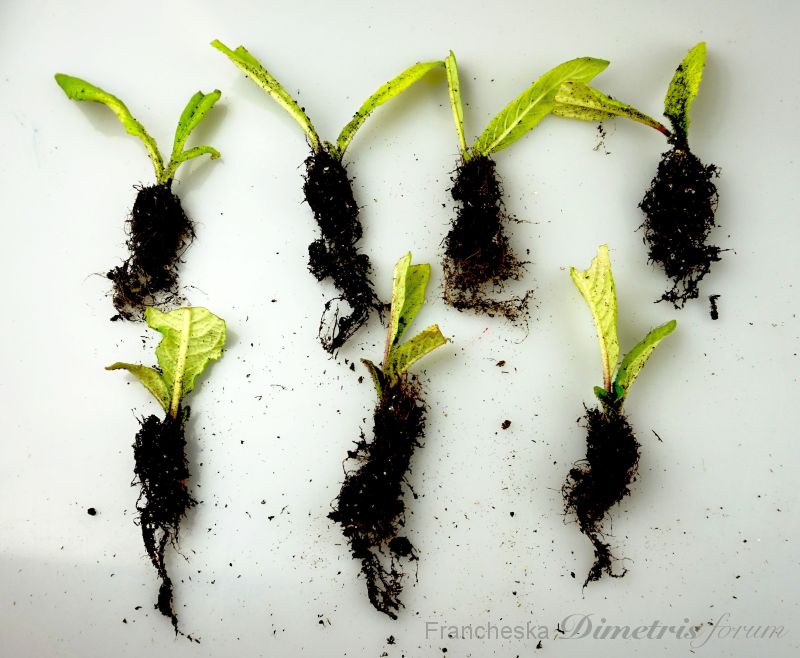 Since it was difficult to find enough identical plants, I divided the plants into two (2) groups in which Set No. 2 was slightly smaller than the plants in Set No. 1. The hybrid I used was the DS - Meteor Shower. Here is Set No. 1: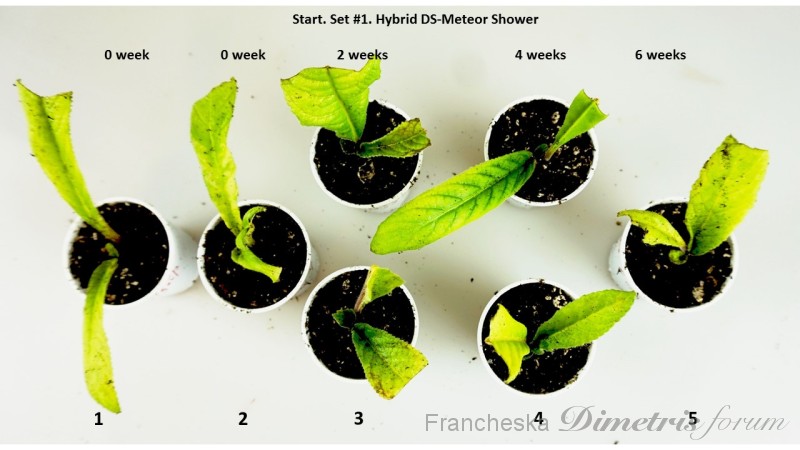 Set No. 2 is also Meteor Shower but the plants are slightly smaller. I am not showing the root systems because they are very similar to the ones shown above.




In all experiments we used Reverse Osmosis (RO) water. We wet our soil with it and watered the plants with it mixed with fertilizer.

Fertilizer was Peter's Peat Lite Special Fertilizer 20-10-20 in a final concentration of .5 dry ML of fertilizer per litre of water. To make a consistent concentration of water with fertilizer, we prepare a 100X concentrated solution by adding 50 dry ML of fertilizer to 1 litre of RO water. The final watering solution is prepared by adding 40 ML of the concentrated solution to one gallon (or 4 litres) of RO water.

The potting media in all experiments is Pro-Mix HP Biofungicide + Mycrrhizae plus 20% of medium size perlite.

We identify the five different conditions by placing numbers beneath the plants in a vertical line.

No. 1 - Dry potting media was wetted with RO water without fertilizer. When plants needed water after the soil dried out, the soil was watered with water mixed with fertilizer.

No. 2 - Dry potting media was wetted with RO water with fertilizer When plants needed water after the soil dried out, the soil was watered with water mixed with fertilizer.

No. 3 - Dry potting media was wetted with RO water without fertilizer. When plants needed water after the soil dried out, the soil was watered with RO water mixed with fertilizer 2 weeks after the original potting date but with RO water without fertilizer BEFORE then.

No. 4 - Dry potting media was wetted with RO water without fertilizer. When plants needed water after the soil dried out, the soil was watered with RO water mixed with fertilizer 4 weeks after the original potting date but with RO water without fertilizer BEFORE then.

No. 5 - Dry potting media was wetted with RO water without fertilizer. When plants needed water after the soil dried out, the soil was watered with RO water mixed with fertilizer 6 weeks after the original potting date but with RO water without fertilizer BEFORE then.

Now let's see what happened after 6 weeks: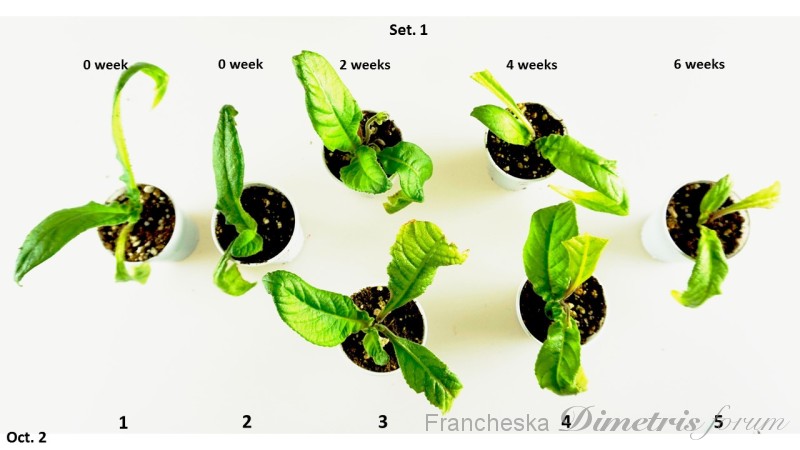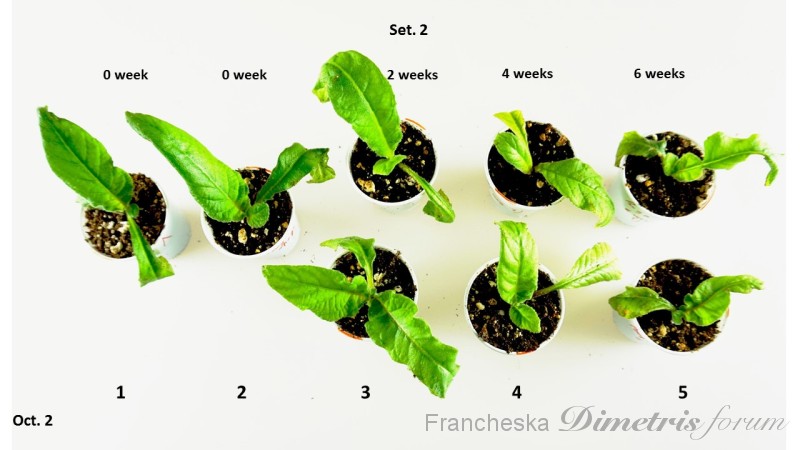 If you look carefully and compare all of the plants from the first week of the experiment with all of the plants in the sixth week several things are noticeable:

A) in the plants in columns numbered 4 and 5 which were fertilized in the 4th and 6th weeks respectively (after planting), we see delay in the growth in both sets. However column 4 looks better than column 5 for obvious reasons: the ones in column 5 were increasingly deficient in essential minerals.

B) the plants in columns numbered 1, 2, 3 look better than the plants in columns 4 and 5. It looks to us like the plants in column number 3 did the best and are slightly more robust. However, this is not conclusive.

We decided to continue the experiment for another 4 weeks where all plants were watered with fertilizer. This is what they looked like after another 4 weeks: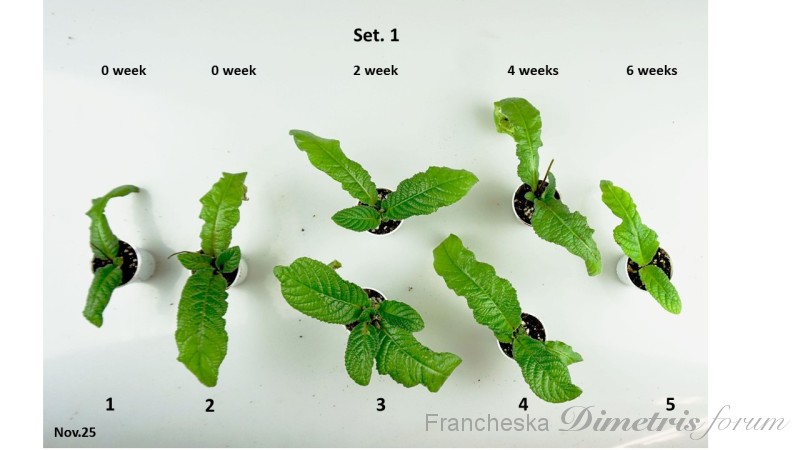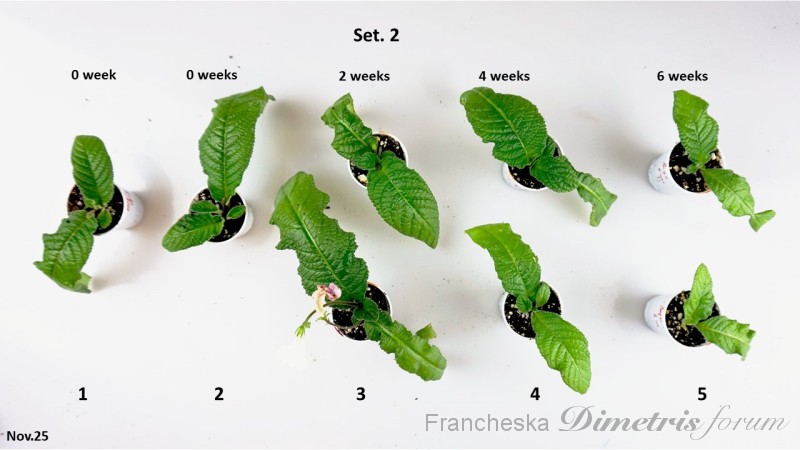 The plants were not in great shape to begin with because the temperature and humidity in our growing room were higher than normal.



Attachments:
Presentation2.jpg [ 147.77 KiB | Viewed 2799 times ]