Mar. 23, 2013
Pavel: "Flower is three days old. So far, this one has the brightest lemon color I've ever seen. The flower will probably grow a little and fade slightly."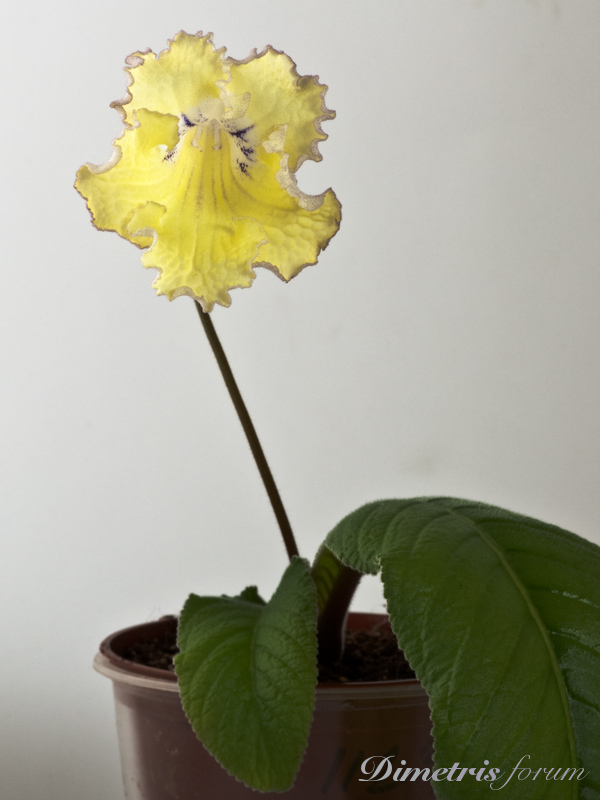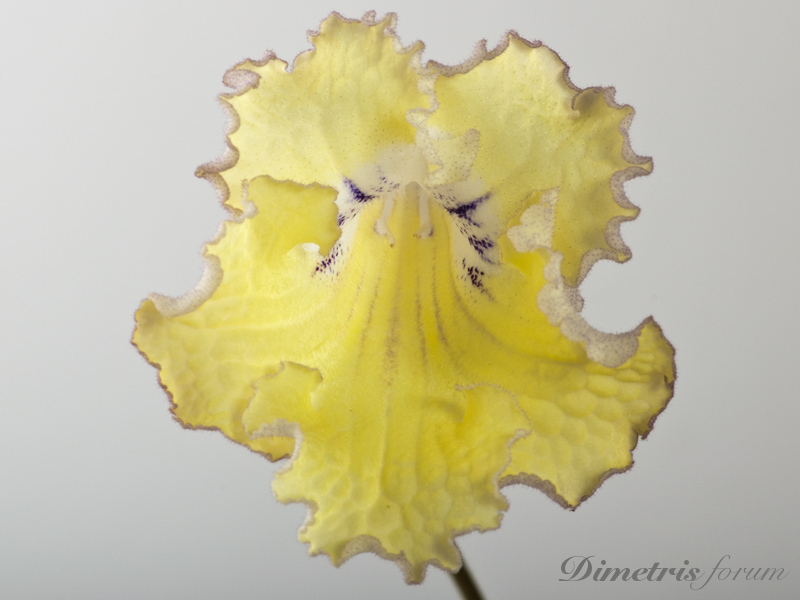 This hybrid (DS-1119) has faded in one week...
http://dimetris.com.ua/forum/viewtopic.php?t=8487
Mar. 23
Pavel: "Four days later, the color is still good. The flower has grown larger - 6.5cm (2.5") and gotten some frills.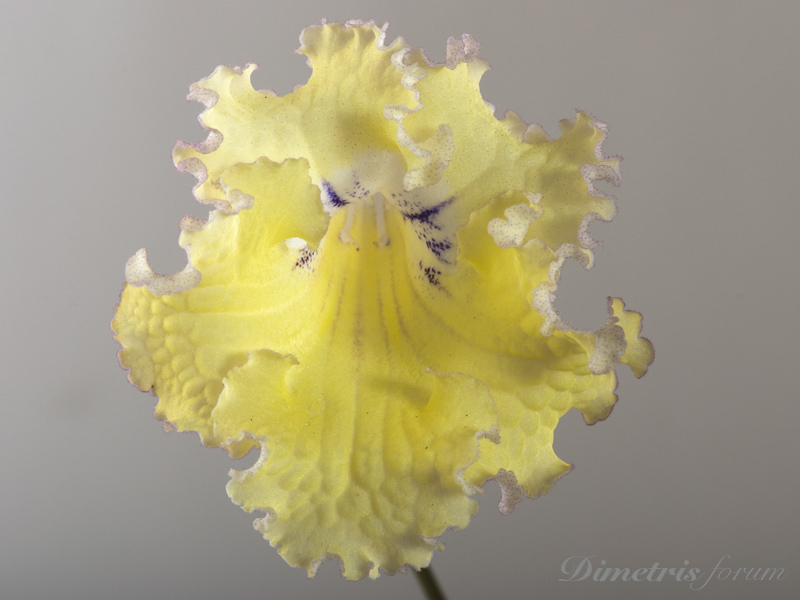 Pavel: "Photo below shows three varieties with yellow color. Left to right is DS-1119, DS-Horus, and DS-1123 (now DS-Chick).
DS-1119 will be discarded, and DS-1123 will be propagated."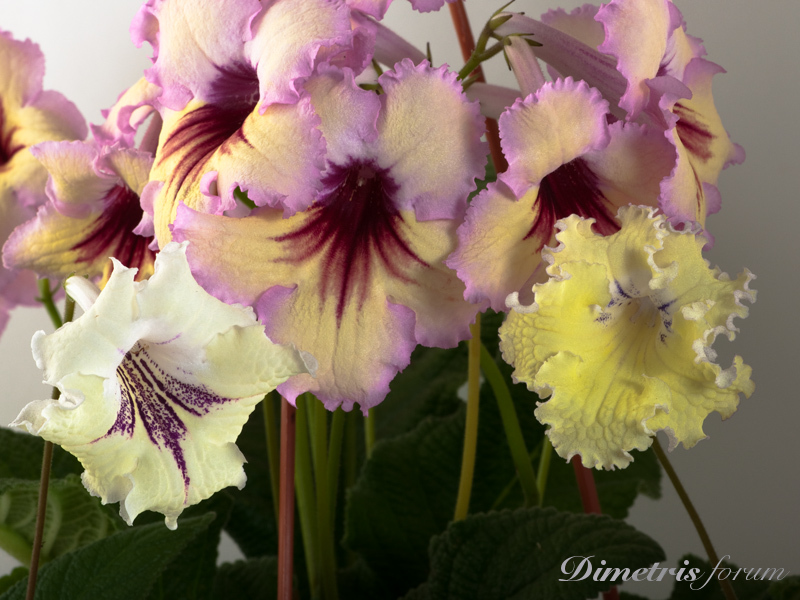 Pavel: "Mar. 30th - color does not change."
Pavel: "Apr. 1st - flower continues to get larger - now 7cm. Below, together with DS-1125 (to the left)."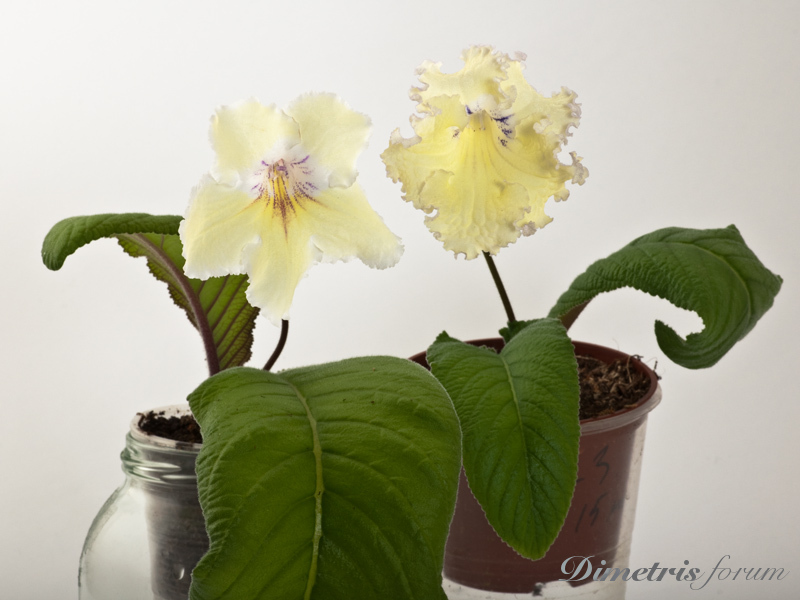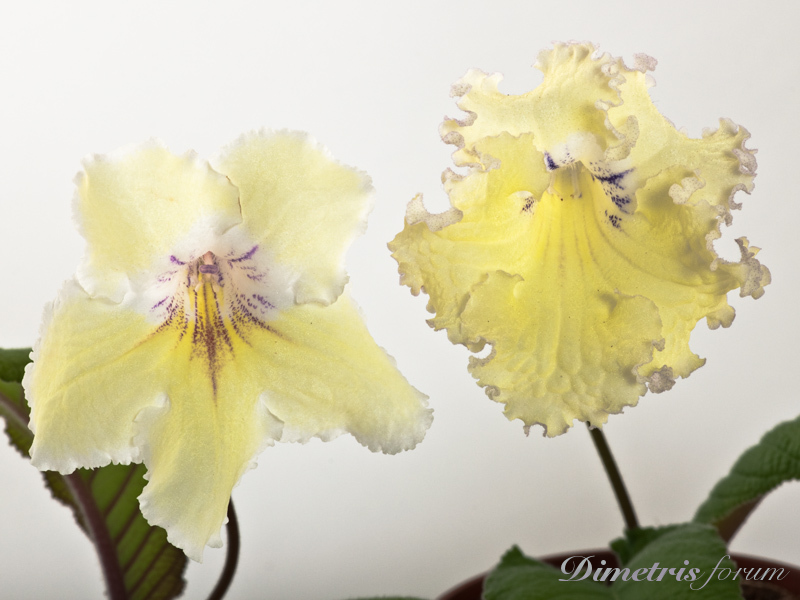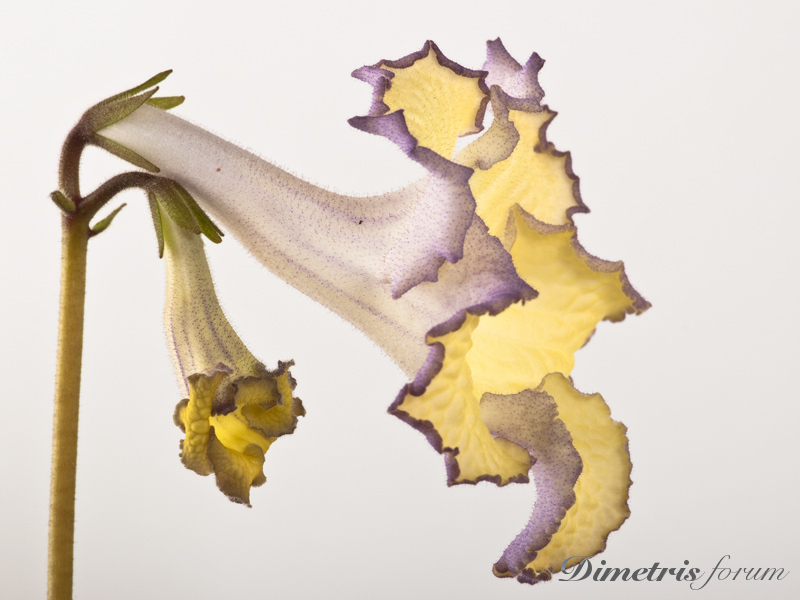 Pavel: "With my critical view, and Lena's (Pavel's wife) super critical view, we like this one a lot.
This seedling has the best yellow/lemon color among all the yellow streps I know of. However, I have not experimented with higher temperatures yet. I have 22 degree C (72 degree F) temps in my strep rooms.
It is a pity that it has a touch of blue in it's throat. On the other hand, the outer purple tint may protect it from fading, and serves as a background to contrast the yellow color.
One cannot ignore the way color information is processed by the human eye and brain. In the case of solid color, the intensity of color might be negated (by the brain) compared to the processing of contrasting colors.
That's why when at least two colors are present, we perceive the object as more beautiful."
From me (Francheska): I have the yellow streptocarpus 'Zeus' (Pyotr Kleszczynski). I asked Pavel to compare this seedling to Zeus.
Here is the DS-1123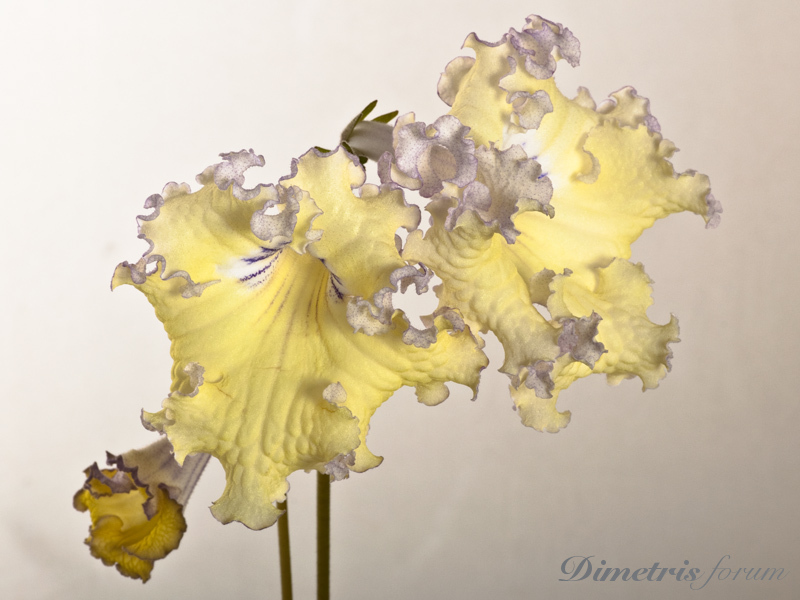 Here is DS-1123 (center) with Zeus (on the left) and Alyssa, a Dubley hybrid (on the right).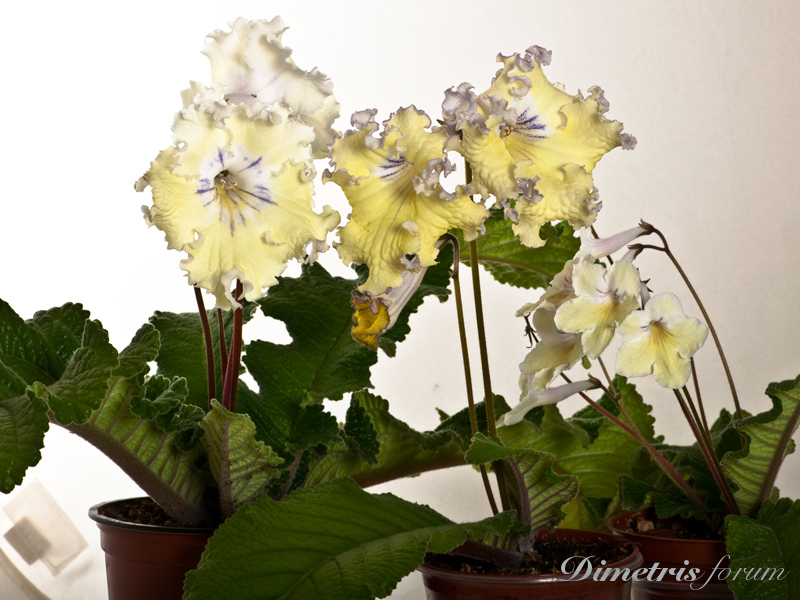 Here is a video from Pavel's YouTube...
http://youtu.be/HlELTCqHLCU
Pavel is showing two similar seedlings and other hybrids that have yellow color in their blooms.
Oct. 22nd, 2013 - The same plant becomes bigger.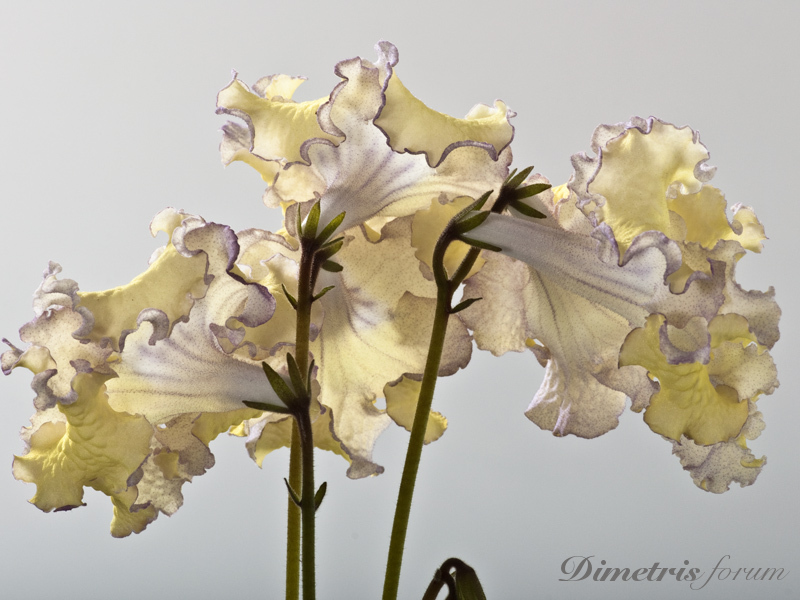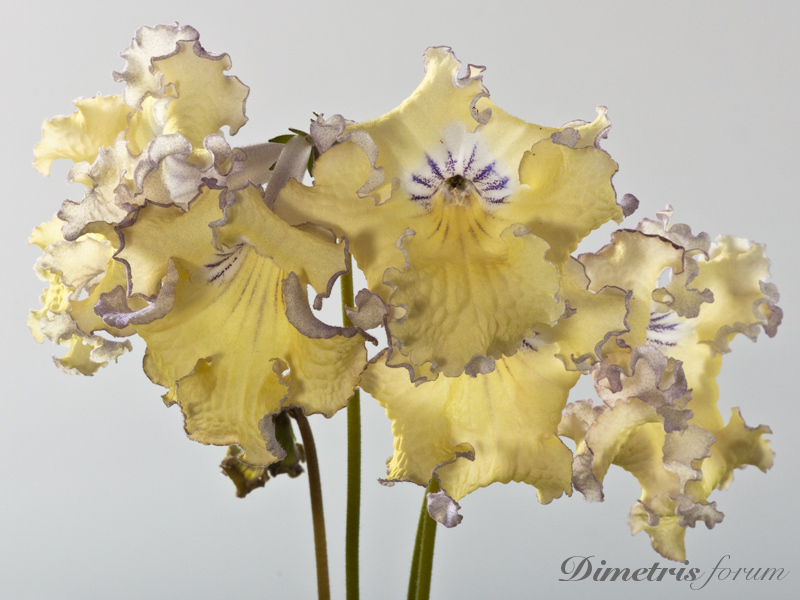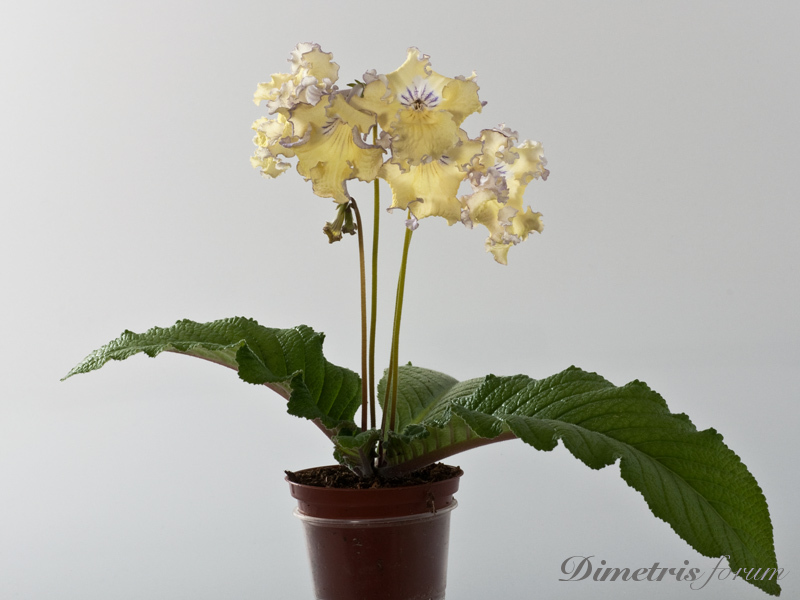 Oct. 28, 2013
Forum is begging about babies.

Looks even better when the sun comes out!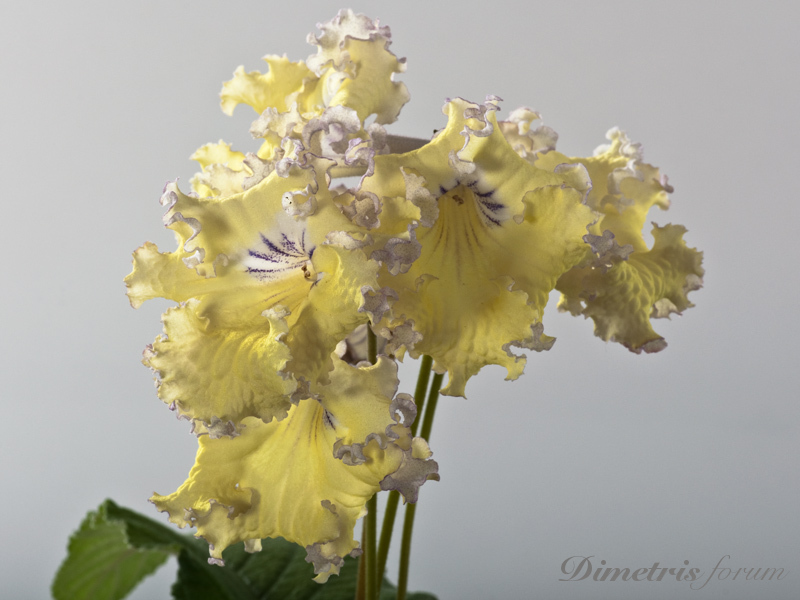 I want one! Yellow was my favorite color when I was a child. I have chickens now. I think I need this "Chick" in my house and not in my chicken coop!