DS-Bonaventure, (DS-267-2)
Compact crown. Excellent at growing. Excellent at blooming.
DS-Bonaventure is one of the best compact Streptocarpus hybrids.
The name is derived from Latin for "Good luck".
As part of our desire to share information, we provide a somewhat detailed description of the Bonaventure because it is a prime example of the compact series. The Bonaventure itself is not more demanding than other compacts.
Description of the variety
The deep bordeaux-colored flowers have blinding white specks and white edging that provide striking contrast to the dark background. The pigment is stable in hot conditions, and does not tarnish with time. Very often the flowers have six petals, making the shape of the flower is especially attractive. Size of the flowers is 5 - 7 cm (2 – 2.75')
Peduncles are medium in height, perfectly positioning flowers over leaves. Young plants quickly reach the flowering stage and continue to bloom rapidly as they mature. Flowers do not fall off when moved. All these properties allow the plant to have a bouquet-like "hat" of flowers gracefully rising above the dark-green foliage.
Rosettes formed from narrow, dark-green leaves. Despite the fact that the hybrid is compact, the leaves grow quickly. Therefore, in this hybrid speed of leaf growth and mass of flowers is optimal.
Advice on growing
It is important to note that the variety has good immunity, is resistant to root rot and fungal infections, and is easier to adapt to different soil.
Thick green foliage indicates that DS-Bonaventure can adapt to increased amounts of light better than the average Streptocarpus.
When the plant is in a phase of rapid flowering it is desirable to repot once every two months.
Since DS-Bonaventure is a forest-type Streptocarpus, evaporation from leaves is rather intense, especially in heat and low humidity. Therefore, this hybrid requires more frequent watering than other Streptocarpus varieties.
Since this variety is compact, it is desirable to increase the pot size by small increments. For example - 5 cm(2') , 7 cm (2.75'), 9 cm (3.5') and 11 cm (4.25'). Like other Streptocarpuses in active growth period - in the spring and summer, it is recommended to repot at least once in three months. In the winter and late fall, when all the processes slow down, repotting once in six month is sufficient.
Since the variety has narrow leaves, each transplant can have up to 5 strong rosettes. As is the case with other varieties of Streptocarpus, it is desirable to remove weak, shallow rosettes.
The maximum size of the pot - 12 cm (4.75') is sufficient for an adult, two-three year-old plants.
........................................................................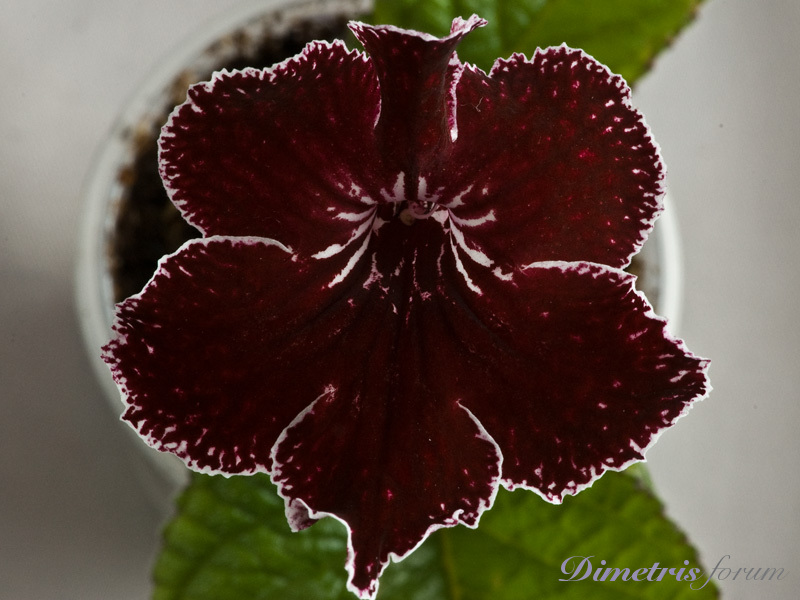 10 месяцев возраст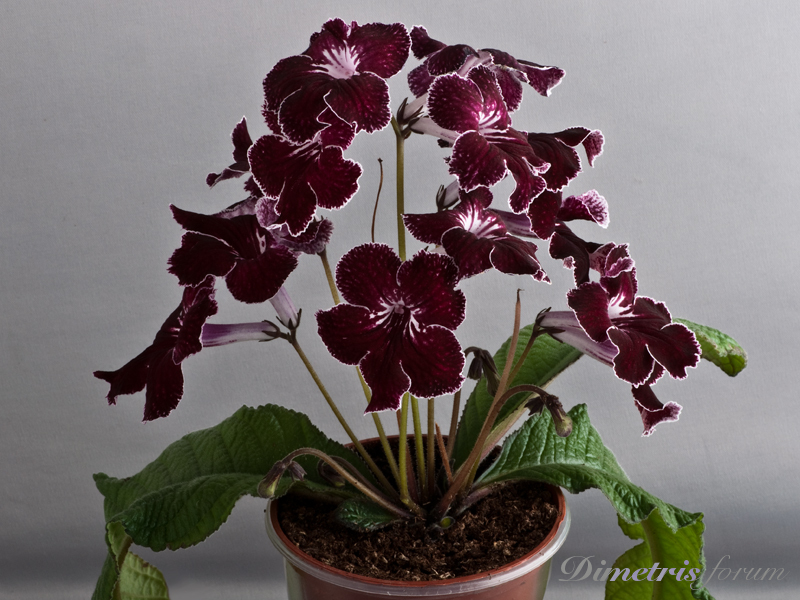 2 года возраст